Mirka DEOS 353CV & 383CV Sanders



Ex Vat.

£392.78

Inc Vat.

£471.33
Avaliable in the following options:
70 x 198mm 383CV 230V 3.0 Orbit (MID3830201UK)
81 x 133mm 353CV 230V 3.0 Orbit (MID3530201UK)
Please allow 3-5 days for delivery.
Download Mirka DEOS Leaflet Here

Mirka® DEOS – Gets you closer. For perfection
Imagine the perfect surface. Thanks to the new Mirka® DEOS electric sander, you can obtain that flawless end result easier and quicker than ever before. By getting you closer to the surface, we bring your sanding experience to a completely new level — you will never go back to hand sanding again.
The DEOS is available in two sizes, DEOS 383 CV 70 x198 and DEOS 353 CV 81x 133, making it suitable for use across multiple applications.
The DEOS is the only electric orbital sander on the market that has been optimised for net abrasives by incorporating more than 45 holes in the pad. When the tool is combined with Mirka's net abrasives, it offers an excellent scratch pattern and a dust-free work environment.
Its innovative features incorporate a powerful brushless motor which provides a high power to weight ratio when in use. The design team has been able to reduce the weight, size and height of the sander, providing customers with a compact, lightweight and easy to use tool.
In addition, it has an integrated vibration sensor with Bluetooth technology that can be connected to a mobile device with the new myMirka app to give guidance on vibration levels.
Key features
• Powerful brushless motor
• The compact and low profile gives full control over the work
• Smart features such as vibration sensor
• The ergonomic design makes it comfortable to use for long periods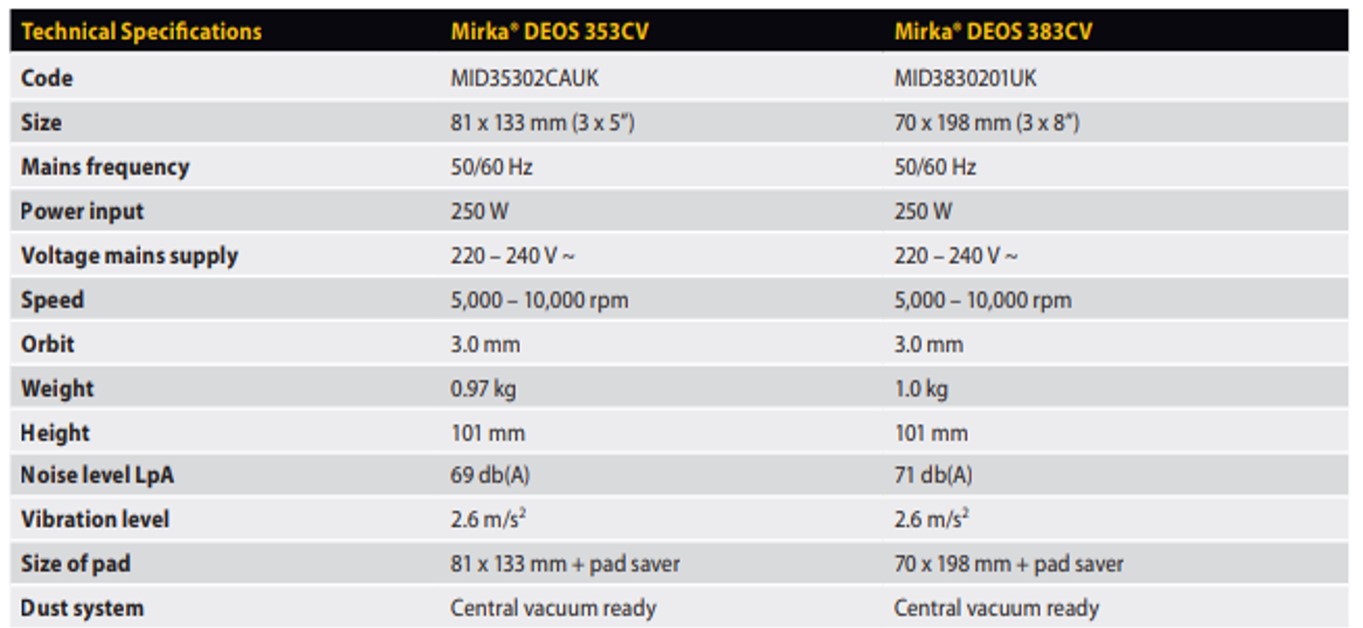 Related Products